Pack-it with Packserv Newsletter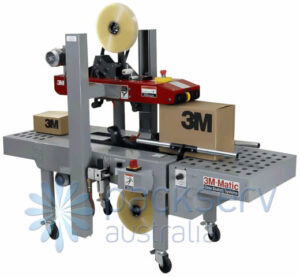 3M-800a Case Sealer
Packserv has introduced the 3M Automatic Adjustable Case Sealer into its fleet. This machine will seal up to 40 boxes per minute and is equipped with side drive belts that can be repositioned to provide greater stability for taller boxes and narrow profile boxes.
Common Questions
Q: Can I print the contents or code on the side of the box as its being taped?
A: Yes, we have Marsh Carton Coders that can be positioned on both sides of the box (or on top in some cases) that can print while the box is in transit.
Q: Some of my boxes come unstuck in transit, is there another way to tape them closed?
A: Yes, 3M have a wide range of advanced adhesives in their tape range, and going for  a wider tape with a stronger adhesive should do the trick.
Q: Can I label my box while its being taped?
A: Yes, depending on the box and label size/position we should be able to get the label onto the box during taping, if not, we can always feed onto one of our belt conveyors and use a LabelAire Automatic Labeller to wipe the label on post tape.