Tablet & Capsule Counting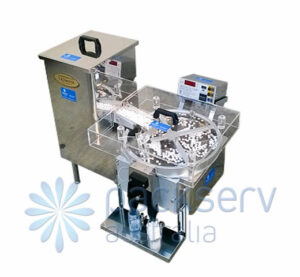 With the KTC-101 Capsule & Tablet Counter
rPackserv introduces to its rental fleet the Capsule & Tablet Counter. Offered only at Packserv this machine is a high speed and efficient batch counter.  It has been designed and developed to count all shapes of products accurately.
This machine requires only 10Amp 240V power and has a stainless steel cabinet construction, stainless steel hopper, glass turntable and all product contact parts are made of 316 stainless steel or FDA approved material. The machine comes standard with a dust extraction port and the sensor sensitivity adjusts automatically to offset the gradual accumulation of any powder on the sensor face.
This bench top machine is perfect for counting capsules, tablets, pills and dragées.
Quick Stats
Batch range counts from 1 to 9,999 pcs
Smooth rotary system with computerised counter for high accuracy
Easy to clean
Machine dimensions: 116 x 156 x 78cm