Vertical & Horizontal Sealing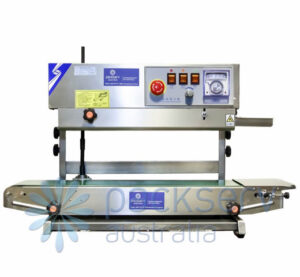 With the CBS-900 Continuous Band Sealer
Packserv introduces continuous band sealers for vertical and horizontal sealing into its rental fleet.  Easy to operate, the 'CBS-900 Continuous Band Sealer' is perfect for small to medium sized production runs.
Fuss free, the operator simply  feeds the bag into the machine by placing the filled bags on a conveyor which are guided through the sealing process.  Very portable and light weight, this bench top machine comes with its own conveyor and only requires 10Amp 240V power.
Controls including height, speed and temperature are fully adjustable to suit product type, size and production output.  Ideal for sealing any thermoplastic material, including Polyethylene, Polypropylene, and laminations containing foils.
The sealer is commonly used to seal coffee, sauces, marinades, grains, herbs, spices and nuts.