A key factor in machinery supplier Packserv's success has been its strategic partnerships with academic institutions, which have played a crucial role in driving innovation, promoting the Packserv brand, and nurturing the next generation of industry leaders.
The decision to establish partnerships with academic institutions was driven by Packserv's commitment to staying at the cutting edge of manufacturing machinery and processes. Recognising that academic institutions have the time, finances, and expertise to stay up to date with the latest developments, Packserv's COO, Ken Seddon, approached them for advice on finding solutions that would best suit the company's needs.
The collaboration has brought significant benefits for both sides. Packserv has had the opportunity to tap into a wealth of knowledge and expertise and found that academics consistently go beyond providing just advice and often propose different approaches to find solutions that Packserv's team hasn't considered or thought possible.
The relationship has proved to be anything but a one-way street. The Packserv team has been actively involved in helping several universities by proposing practical examples of R&D problems that students could consider as a learning exercise. Results have been assessed by Packserv's executive team and feedback offered. Further, when Packserv has interacted with faculty tutors, they have recommended promising students who were coming to the end of their studies and would be looking for employment. Internships have been catered for, which led to two students being taken on as full-time employees. Packserv has begun a joint project with the UTS Centre for Advanced Manufacturing to drive digital transformation through the next iterations of the machines it manufactures, with the ultimate aim to assist the on-shoring of manufacturing.
Packserv aims to continue leveraging its partnerships with academic institutions for innovation and growth. The collaborative approach has been based on sound commercial principles, with the benefits of these partnerships far outweighing any cost of involvement. The knowledge gained has directly influenced the design of Packserv's new range of machines, enhancing the company's market competitiveness.
PACKSERV BOLSTERS EXPERTISE
Packserv has made significant progress in developing 4.0 connectivity for its suite of machines with the addition of Solomon Ould, PhD candidate from the University of Technology Sydney (UTS) Centre of Advanced Manufacturing (CAM) to its development team in Marrickville, Sydney. The appointment is part of a partnership with UTS to turn theoretical concepts into practical applications, as part of Packserv's Sustainable Digital Transformation strategy.
According to Nathan Wardell, managing director of Packserv, Solomon Ould's arrival has given a significant boost to the company's efforts to provide ground- breaking technology to customers in the FMCG manufacturing space.
Packserv's commitment to Australian-made products has driven its activities in recent years and, with Ould's arrival, the company says it will soon have a range of machinery available that incorporates technology to drive efficiencies across the entire FMCG space, entirely manufactured and supported from Packserv's own offices around Australia.
Read the article in Food & Drink Business Magazine here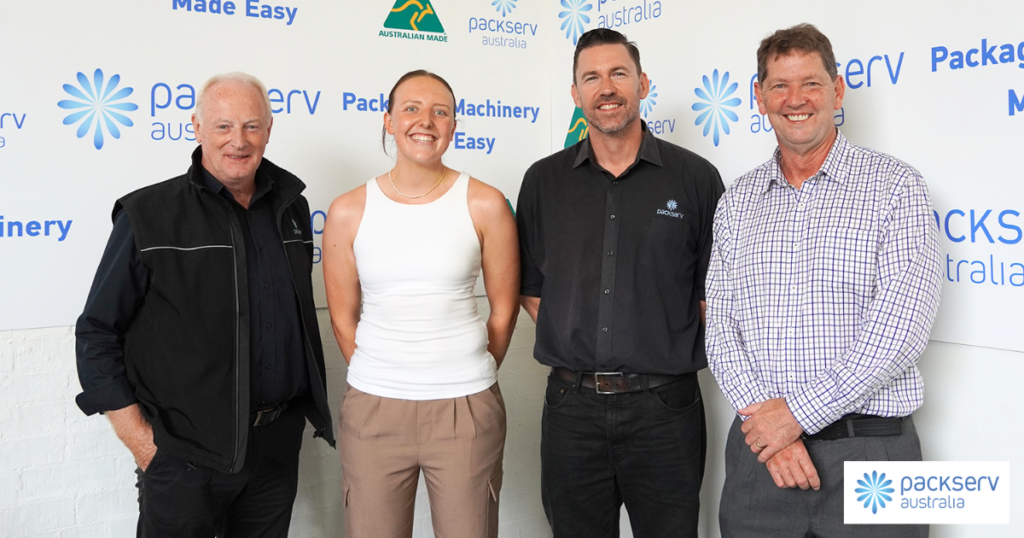 APPMA visits Packserv (1-r): Ken Seddon, COO Packserv; Denni Egan, marketing Executive, APPMA; Nathan Wardell, MD, Packserv; Michael Moran, CEO, APPMA.